by Yiannis Tsapras, Zentrum für Astronomie in Heidelberg and LCOGT.net
"The worlds are formed when atoms fall into the void and are entangled with one another; and from their motion as they increase in bulk arises the substance of the stars." – Leucippus of Elea (5th century BCE)
What new knowledge may be gained by studying exoplanets? There is a direct syllogistic link between this fledgling field of inquiry and our progressive comprehension of the complex set of processes that we collectively define as life. Our understanding of life is derived from observations of its diverse manifestations on our home planet,  all of which are inextricably linked,  sharing a common biological origin – a single genesis. The discovery of a 'second genesis', of life elsewhere in the universe that does not rely on ribonucleic acid (RNA) and deoxyribonucleic acid (DNA),  has profound repercussions not only for science but for every field of human inquiry.  A top-down approach to addressing this issue directly is that of the Search for
ExtraTerrestrial Intelligence (SETI) project.  It began in the '70s and has looked for signs of transmissions from alien civilizations ever since. An alternative approach involves a gradual exploration from the bottom-up, where new scientific knowledge may be gained with each intermediate step.
Planets form in gaseous disks surrounding young stars, but the exact physical processes that drive their formation and evolution are not yet fully understood.

We know that these disks last for a few million years and that planet embryos can migrate while they are still embedded in them. Some of these planetary embryos migrate into their host stars,  while others survive and grow throughout this process but end up far from where they first started forming.  How are these planets distributed around their host stars and are there similarities with our own system or is the Solar system in some ways unique? The presence of liquid water on a planet's surface is not a guarantee for the existence of life,  but it is a necessary ingredient for the development of life as we know it.  Liquid water can only exist at a certain range of distances from the host star, the 'habitable zone'. What fraction of planets reside within the habitable zone of their host stars, are their orbits generally stable or unstable, and what are their physical characteristics? Finding these planets and examining their distribution is our first goal, both observationally and theoretically.  We seek to study their diversity and understand the processes that drive their formation and evolution.
Searches for extrasolar planets have already yielded such a bountiful, and extraordinarily diverse, harvest that it has been necessary to overhaul the planet formation model originally put forth to explain the Solar system. These discoveries include planets orbiting Pulsars, "Hot Jupiters"—gas giants that orbit their stars every few days, planets that have been ejected from their systems and are now floating alone in the darkness, and the first few Earth-sized planets orbiting far enough from their stars that any water on their surface would be in liquid form.
Astronomers use a variety of methods to find these planets and each method is sensitive to a different domain of the planet distribution.
By studying the emerging patterns in this distribution, and testing the theoretical predictions with real data,  we develop our understanding of how planets form and how their orbits evolve. There is,  however,  a certain type of planet that we still know very little about; Cold rocky planets,  far enough from their stars that any water on their surface would have turned to ice. Theory predicts that at the early stages of planet formation,  proto-planetary embryos in this region are likely to form cores of ice and rock and,  provided the conditions are right, gradually grow by accreting material from the surrounding gaseous disk, transforming them into gas giant planets. However,  if there is little gas available,  or if it gets depleted quickly,  they do not grow very large. These planets are almost undetectable with transit or radial velocity searches, but are exactly the type of planet microlensing searches are designed to find.
Einstein predicted that any massive star will act as a gravitational lens,  bending the light rays from any background star that passes behind it,  as seen from the Earth,  and distorting its apparent shape. The effect of lensing at cosmological distances is practically observed as multiple distorted images of the background (source) star around the edge of the gravitational influence of the lensing star. In microlensing the angular distances between the images generated by the lensing effect are of the order of micro-arcseconds, and the images cannot be individually resolved with current technology.  What is actually observed during microlensing events is an increase in the brightness of the source star as the lens appears to move closer to it on the plane of the sky, followed by a gradual dimming back to its normal brightness as the lens moves away.
The relative
proper motions
between the stars in the Galaxy produce microlensing events that last for a few weeks up to several months. If the lens is a planetary system,  there is a chance that the planets may also perturb the light coming from the source star resulting in short-lived but intense anomalous features on the event lightcurve that reveal the presence of the planet. These anomalies typically last for a few days in the case of Jupiter-mass planets and only for a few hours for Earth-mass planets.  Since the presence of the lensing object can only be inferred by its gravitational effects and not the light it produces, the method can detect planets around stars that are extremely faint, even around
brown dwarfs
and
black holes
.
Microlensing is a rare phenomenon. In our own Galaxy, only about one in a million stars will undergo microlensing at any given time. Yet modern microlensing surveys (OGLE,  MOA), monitoring the
extremely crowded fields of the Galactic Bulge,  announce ~2,000 such events every year.  A small subset of these events is selected for monitoring by follow-up teams (RoboNet,  μFun,  MiNDSTeP, PLANET) and intensive observations commence to look for planetary deviations.
Early results from microlensing searches at intermediate orbital radii (1-10AU) indicate that ice and gas giant planets are a relatively common feature around M-dwarf stars. These searches have also found a number of quite massive planetary and brown dwarf companions orbiting low-mass stars, several planets with masses close to that of the Earth, systems with multiple planets, and possible first evidence of an exomoon. Over the next few years, ground-based searches will be complemented by space missions, which will allow for a much clearer understanding of the planet distribution at and beyond the icy regions of planetary systems.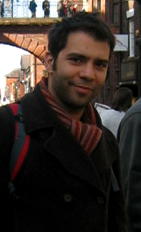 About the Author. Currently holding a research position at the Zentrum für Astronomie in Heidelberg,  Yiannis previously sated his scientific curiosity working for the LCOGT institute (2007-2014). During the 2012-2014 academic period he was also a Teaching Fellow at the School of Physics and Astronomy, Queen Mary University where he taught Physics for the Science and Engineering Foundation Programme and a MSc course on Extrasolar Planets and Astrophysical Discs. Prior to that, he held a research position at the ARI in Liverpool. He received a PhD in Astronomy from the University of St Andrews in 2003 and a MSc in Radioastronomy from the University of Manchester in 1999.  His  primary research interests lie in the field of exoplanet science where he uses the complementary techniques of microlensing and transits to search for planets orbiting distant stars. He is a founding member of the RoboNet project which uses the LCOGT telescope network to detect exo-planets by microlensing. Besides exoplanets, he has a keen interest in robotic astronomy, ongoing dark-matter surveys, CMB cosmology and science outreach programs.